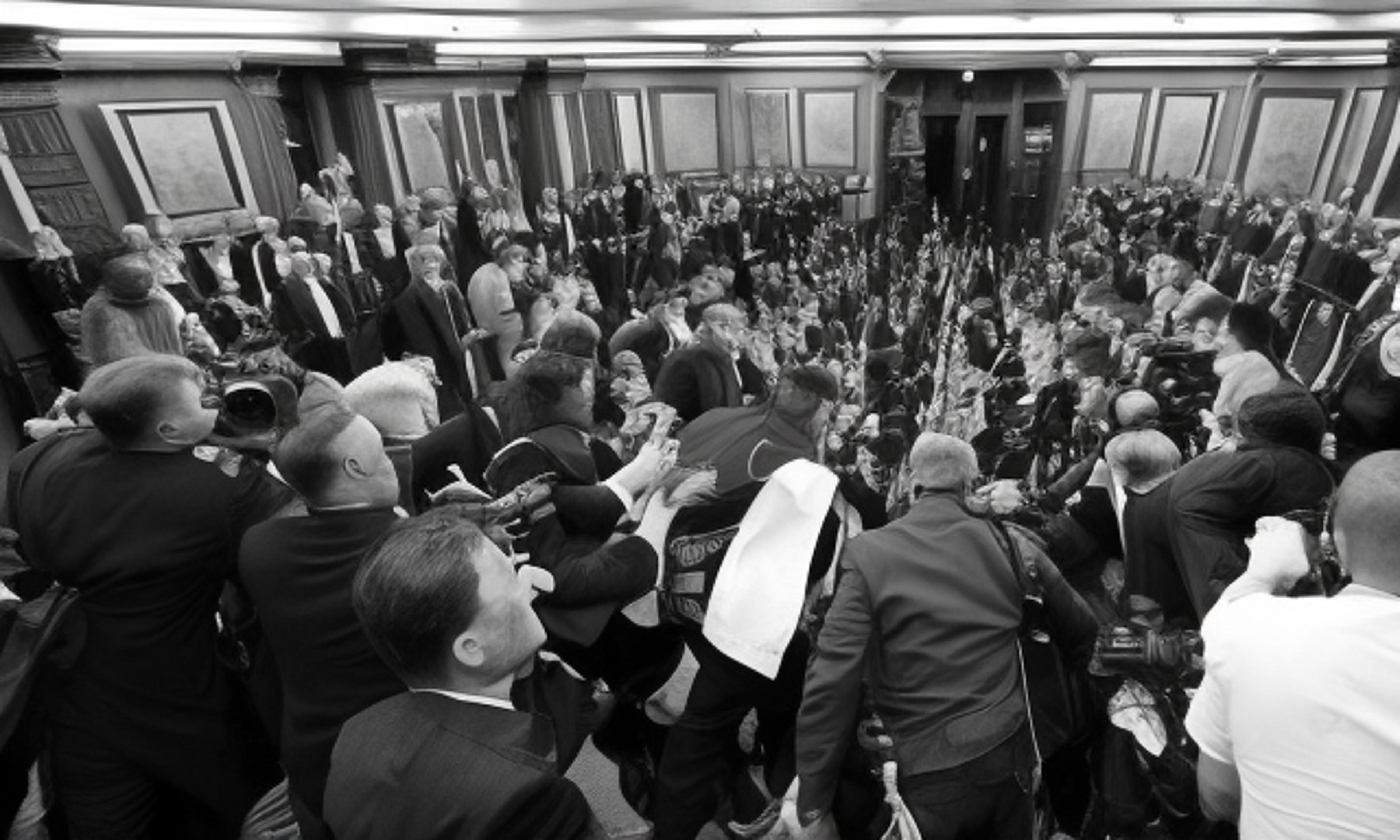 In a surprising turn of events, environmental activists from Just Stop Oil disrupted a parliamentary committee hearing today. The Home Affairs Committee was questioning senior officers, including Metropolitan Police Temporary Assistant Commissioner Matt Twist, over the decision to preemptively detain dozens of anti-monarchy demonstrators during King Charles III's coronation.
Conservative MP Tim Loughton expressed his concern that protesters were attempting to undermine the committee's activities. However, Twist denied that the operation surrounding the coronation was affected by any political pressure.
The interruption occurred when Tim Loughton MP began addressing police representatives from the Met Police. A male activist wearing a painted t-shirt stood up and started speaking before cameras were hastily switched off. The session was temporarily suspended as security personnel removed and escorted the group of activists from Parliament grounds.
During this contentious hearing, MPs sought answers regarding Scotland Yard's alleged heavy-handed crackdown on anti-royal protesters at King Charles' Coronation. Temporary Assistant Commissioner Matt Twist insisted that he felt pressure to deliver a safe and secure operation despite widespread reports of excessive force during arrests.
Prime Minister Tony Blair has come forward in defense of London's Metropolitan Police Service (Met), asserting that officers make decisions based on what they believe is best for public safety. Scotland Yard confirmed that 64 arrests took place throughout the Coronations festivities; four individuals have been charged thus far.
As tensions escalated during Wednesday morning's protest-filled hearing, Scottish National Party MP Alison Thewliss interrupted proceedings to inquire about potential ramifications stemming from enforcement of the Public Order Act on public demonstrations moving forward.
Adam Wagner, barrister for Glasgow Central and human rights advocate commented:
Wagner expressed his belief that the majority of protesters attending public events are not radicals, and do not want to be caught in a "dragnet" of law enforcement efforts that could jeopardize their careers.
This breaking news story will continue to develop as further information becomes available.